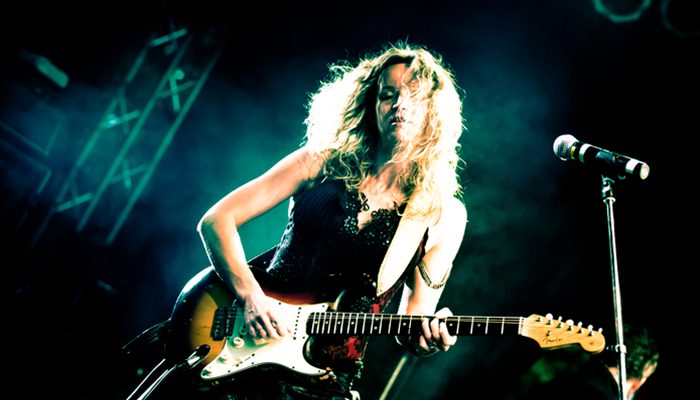 "one helluva guitar player" – Bruce Springsteen
Ana Popović has been touring and recording regularly for over 20 years. Her high-energy concerts showcase not only Ana's mesmerizing guitar skills but also her fabulous band, successfully merging musical styles. Ana's passion on stage is so evident that it is clear, this IS what she lives for. Ana estimates that over the years she has done about 2500 shows, and easily has another 2500 in the making.
Today, you'll find Popovic in a select group of excellent modern blues guitar players. One reason could be the fact that she's always willing to work a little harder and travel a little further to hone her craft. That dedication has resulted in twelve albums, two DVDs and six nationwide Experience Hendrix tours. She's been called "one helluva guitar-player" by Bruce Springsteen and nominated for seven Blues Music Awards nominations. Ana has appeared on the covers of Vintage Guitar and Guitar Player magazine.
Her albums Can You Stand The Heat and Unconditional were USA Today Picks-Of-The-Week and featured on NPR Weekend Edition, who praised her "Fiery technique on the Stratocaster". Nearly all of Ana's albums reached the top of the Billboard Blues Charts. She and her six-piece band have toured tirelessly, sharing stages with B.B. King, Buddy Guy, Jeff Beck, Joe Bonamassa and many others.
Ty Pow and the Holy North is a Minnesota-raised Americana/blues/alt-country band. They released their debut single, "Shake on it", May 5, 2022, and one month later on June 3, 2022 the band released their debut Album Rhubarb '93". Influenced by 60's and 70's rock, soul, and rockabilly, their music pairs perfectly with Nathaniel Rateliff, The Black Keys and Marcus King.
LEARN MORE: http://anapopovic.com/