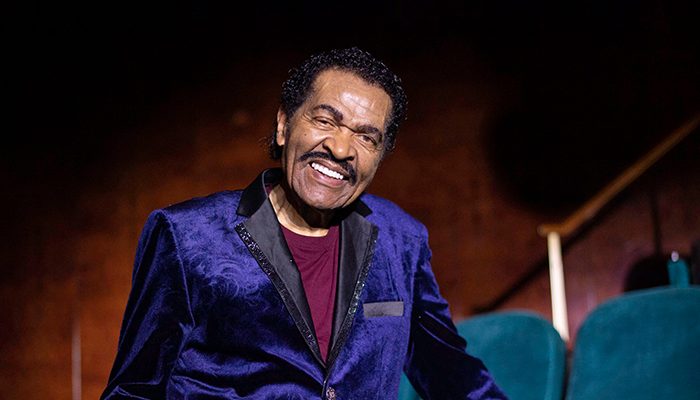 "Bobby Rush is more than a living legend. He is a living miracle." – Glide Magazine
Blues Hall of Fame
2 Grammy Awards
14 Blues Music Awards
During his renowned stage show, Bobby Rush frequently jumps high into the air, arms spread and legs tucked, only to land gracefully and return without a hitch to his dazzling routine. It's a move you might expect at a contemporary R&B show, but it's downright shocking when you realize that Rush is in his late 80s.
"I never thought I would be here this long," says Rush. "I was 83 years old before I won a Grammy, but it's better late than never. I laugh about it, but I'm so blessed and I surely never thought I'd be making a living doing what I'm doing. I'm not just an old guy on my way out."
Hardly. Rush's busy schedule includes headlining European festivals with his band and solo programs at venues including Jazz at Lincoln Center, and he just recorded an album of brand-new material, All My Love For You, coming out via his own label Deep Rush Records. Over the last several years he's won a second Grammy, re-recorded his 1971 hit "Chicken Heads" together with his old friend Buddy Guy and young blues star Christone "Kingfish" Ingram, and written a critically acclaimed autobiography, I Ain't Studdin' You: My American Blues Story.
Rush, meanwhile, still remains steadfastly committed to the African American audiences who sustained him for decades, and on his new album, he looks back from his current vantage point as a seasoned artist celebrated by an ever-growing fan base.
Rush has become one of the most prominent advocates for the blues tradition and says "It's the root of all music, it's the mother of all music. If you don't like the blues, you probably don't like your mama."
And he has no plans to slow down.
Recommended for Fans of Charlie Musselwhite, Joe Louis Walker, Little Milton and Theodis Ealey.
LEARN MORE: https://www.bobbyrushbluesman.com/
📸: Laura Carbone