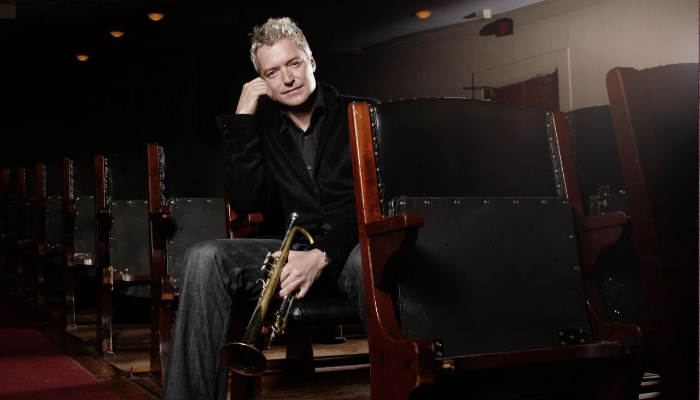 "A jazz-pop powerhouse"
– The New York Times
_____________________________________
THIS SHOW HAS BEEN RESCHEDULED FOR OCT 22-25
THU OCT 22 • 7PM THU OCT 22 • 9:30PM FRI OCT 23 • 7PM FRI OCT 23 • 9:30PM
SAT OCT 24 • 7PM SAT OCT 24 • 9:30PM SUN OCT 25 • 3PM SUN OCT 25 • 7PM
______________________________________
Since the release of his 2004 critically acclaimed CD When I Fall In Love, Chris Botti has become the largest-selling American instrumental artist. Performing worldwide and selling more than four million albums, he has found a form of creative expression that begins in jazz and expands beyond the limits of any single genre.
Over the past three decades, Botti has recorded and performed with the best in music, including Sting, Barbra Streisand, Tony Bennett, Lady Gaga, Josh Groban, Yo-Yo Ma, Michael Bublé, Paul Simon, Joni Mitchell, John Mayer, Andrea Bocelli, and even Frank Sinatra.
Band Personnel:
Chris Botti – Trumpet
Lee Pearson – Drums
Reggie Hamilton – Bass
Leonardo Amuedo – Guitar
Holger Marjamaa – Piano
Andy Snitzer – Saxophone
Anastasiia Mazurok – Violin
Sy Smith – Vocals
Rafael Moras  – Vocals
Join us for dinner before or during the show. Explore our menu >>  Did you know that we offer a premium seating option for those who pre-order a $39 food/beverage voucher? Call 612-332-5299 to learn more and order.
His ongoing association with PBS has led to four #1 jazz albums, as well as multiple Gold, Platinum and Grammy Awards.
His latest album Impressionswon the Grammy for Best Pop Instrumental Album.
The trumpeter has also performed with many of the finest symphonies and at some of the world's most prestigious venues from Carnegie Hall and the Hollywood Bowl to the Sydney Opera House and the Real Teatro di San Carlo in Italy.
Learn More: http://chrisbotti.com