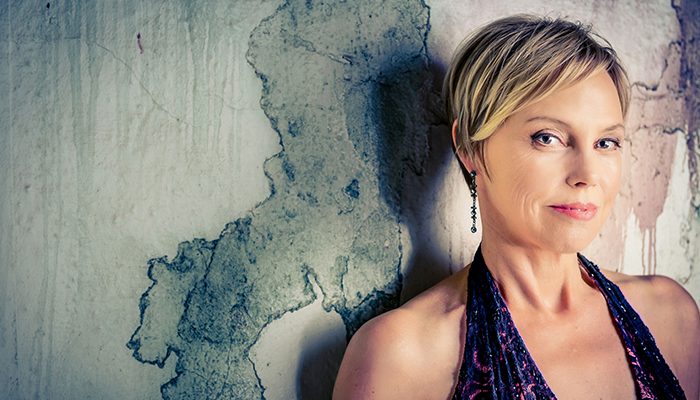 "'These songs will put a smile on your face. The performances are delivered with verve and style…. Entertaining!" – Jazz Review
Connie and her band serve up a potpourri of holiday classics with a twist, along with little-known seasonal songs that will enchant and delight.
Minnesota-born-and-raised, Connie Evingson has a catalog of acclaimed albums that run a wide spectrum of genres. From jazz to Broadway standards, to covering Peggy Lee or The Beatles, the Twin Cities-based singer has an adventurous spirit that, like her music, knows no boundaries. Her ten albums released through Minnehaha Music have all charted in the Top 50 in the United States and Canada and can be heard on radio stations around the globe.
Evingson has toured worldwide, with appearances at concert halls, theaters and festivals in the U.S., Europe and Japan. Memorable performances include being a guest artist at Jazz at Lincoln Center with Wynton Marsalis, Michael Feinstein, and Vince Giordano; multiple performances on Garrison Keillor's A Prairie Home Companion; collaborations with the Minnesota Orchestra and Toronto Symphony conducted by Doc Severinsen; performances with the JazzMN Orchestra and Vocalessence, and a standing invitation at the renowned Dakota in Minneapolis.
Evingson is a two-time recipient of both the McKnight Fellowship for Performing Musicians as well as the Minnesota State Arts Board Artist's Initiative Grant. She has been featured in the Smithsonian Jazz Singers radio series, on NPR's Fresh Air and Weekend Edition, and appears on numerous compilation discs.
Just listen. Connie Evingson finds the heart of a song and nestles it in the hearts of her audiences.
Connie's holiday band:
Mary Louise Knutson (piano), Chris Bates (bass), Dave Schmalenberger (drums) and special guest trombonist/producer/arranger Michael Nelson whose lengthy resume includes Cory Wong, Prince, Doc Severinsen, the Hornheads, Steve Wonder, Chaka Khan and many others.
LEARN MORE: https://connieevingson.com/