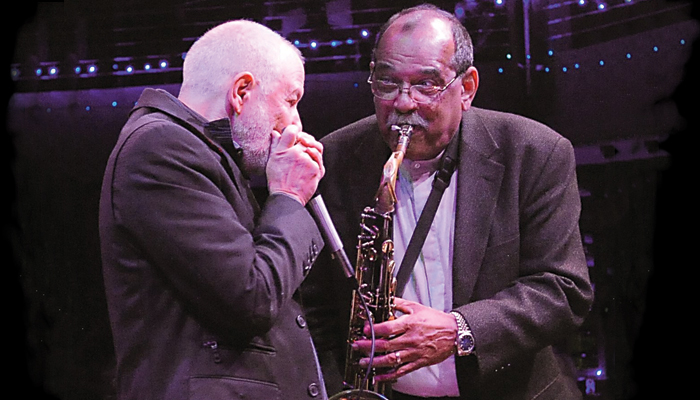 "underappreciated national treasure" – Downbeat
Two internationally known music legends, Corky Siegel and Ernie Watts return to the Dakota! These two amazing musicians have over 100 years of combined experience. Corky Siegel was co-founder of the Siegel-Schwall Band (1964 – 1974). Ernie Watts has been playing the saxophone with the entire alphabet of who's who since the age of 13.
Corky Siegel is known as one of the world's great blues harmonica and keyboard players. He is the creator of Chamber Blues, a very unique six-piece chamber group that bridges the gap between the blues and classical music. We see Corky as having a pivotal influence in modern music because of his close associations with the blues masters in the earlier days of Chicago blues, because of his essential part in the blues rock revolution, and because of his surprising success in bringing together blues and classical audiences. For all these reasons Downbeat Magazine calls him a "… national treasure."
Ernie Watts is a two-time Grammy winner who played his sax for twenty years in the Tonight Show band with Doc Severinsen for Johnny Carson. He toured with many notable musicians including the Rolling Stones, Charlie Haden, Buddy Rich and Pat Metheny to name a few. He recorded with everyone from Marvin Gaye to Dizzy Gillespie to Paul McCartney to Aretha Franklin to Steely Dan to Frank Zappa. He is one of the most versatile and prolific saxophone players today.
LEARN MORE: https://www.corkymusic.com/