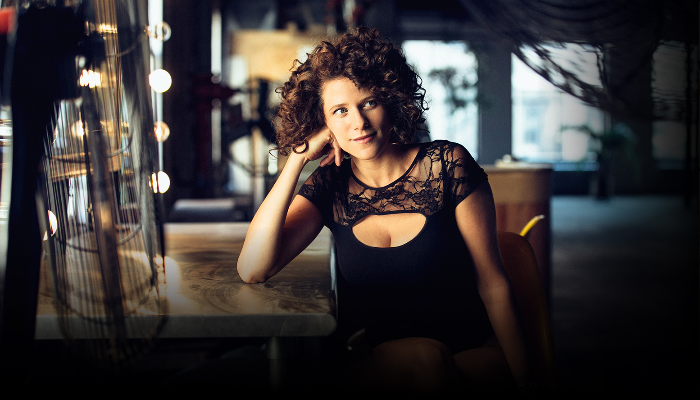 "In the contemporary jazz world, nobody sounds quite like Aimée. Her voice, girlish and playful, has a saucy quality informed in equal parts by French chanson, Gypsy jazz, and bebop ... With excellent intonation, precise timing, and a head full of jazz from Ella Fitzgerald to postbop, she can be delicate and breathy one moment, and swing hard the next. "
– JazzTimes
Last year, after hearing Cyrille at Birdland in NYC, legendary composer Stephen Sondheim told her, "You made me feel like a composer for the first time."
Improvisation is not just a technique for Cyrille Aimée, it's a way of life. Among countless accolades, Aimée has won the Montreux Jazz Festival Vocal Competition and the Sarah Vaughn International Jazz Vocal Competition.
The acclaimed vocalist ventured from singing on street corners in Europe to dazzling audiences at the world's most prestigious jazz festivals; from sneaking out to sing in gypsy encampments in her native France to acting on Broadway; from braving the notoriously tough audiences at New York's Apollo Theatre to being called a "rising star in the galaxy of jazz singers" by The New York Times.
Members:
Cyrille Aimée (vocals)
Dan Danor (drums)
Hila Kulik (piano, keyboards)
Tamir Shmerling (bass)
Wayne Tucker (trumpet)
Join us for dinner before or during the show. Explore our menu >>  Did you know that we offer a premium seating option for those who pre-order a $39 food/beverage voucher? Call 612-332-5299 to learn more and order.
Learn More: https://cyrillemusic.com