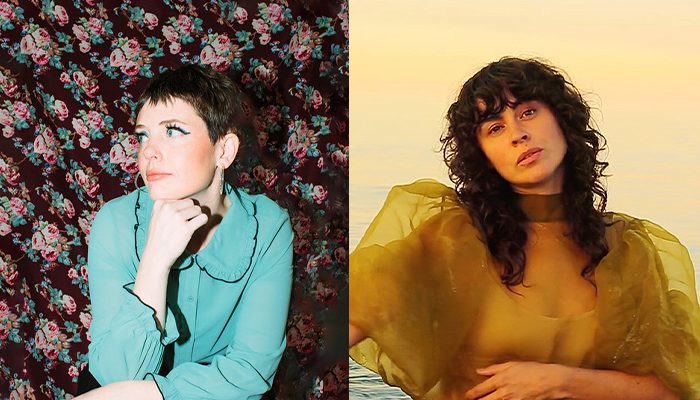 "brought genuine edge to indie balladry… bright melodies, satisfying hooks" – Guardian UK
HALEY had already recorded an album as a teenager before leaving Rapid City, SD for Duluth, MN—where she immediately recorded again. Alan Sparhawk heard her at a local Iron Range club one night and a week later, she was transformed from a college student to an ambitious dropout with her guitar and a drummer crammed into a Honda Civic opening for Low. She was nineteen years old. That's a story already.
But—there is more to this story. In the last decade, Haley has released ten more recordings to critical acclaim and mounting success: touring, festivals, capturing awards and artist grants, inventive video productions, placing song tracks on prime TV shows and popular films, appearing on myriad "best of" lists while continuing to write and perform locally. Oh… and she also had a baby in there somewhere. It's no accident that her creative prowess drew the attention and respect of fellow collaborators like Lana Del Rey, Justin Vernon, Dave King, Andrew Bird and Lucius.
HALEY is more than a hard-working musician. She is an innovator, visual artist, producer, and visionary dug into the trenches of living. She writes genuine, epochal and poetic tales that feel like our heartbreak, failure, frustration and joy. In a clear, insistent and often haunting voice, she tells real stories back to us, as if they were our own. It just doesn't get much better than that.
Feeling detached from her previously released work, Duluth's Sarah Krueger set out to Hive, a small studio nestled near the river in her hometown of Eau Claire, WI. Krueger assembled a cast of collaborators to help flesh out a collection of songs that would later become the catalyst for Lanue.
In Lanue's self-titled LP, Krueger continues to amplify her knack for straightforward and earnest songwriting while maintaining a vocal delivery that sits like honey over layers of warm synths, guitars, and percussion. Ranging from confessional to nostalgic, each track is brightened by a lush lift while continuing to rest inside the framework of the folk tradition.
Tender Ness is the stage name of singer and performer Peter Witrak, originating from where his first recording sessions took place, in the Tenderloin near Van Ness Avenue, in San Francisco. Classically trained but nightclub-driven, Tender Ness gives off a groovy sultriness with soft crooning vocals and sonic influences ranging from bossa nova to the jazz ballad to low-bpm dance-lounge music.
LEARN MORE: mysocalledhaley.com
LEARN MORE: https://www.lanuemusic.com/