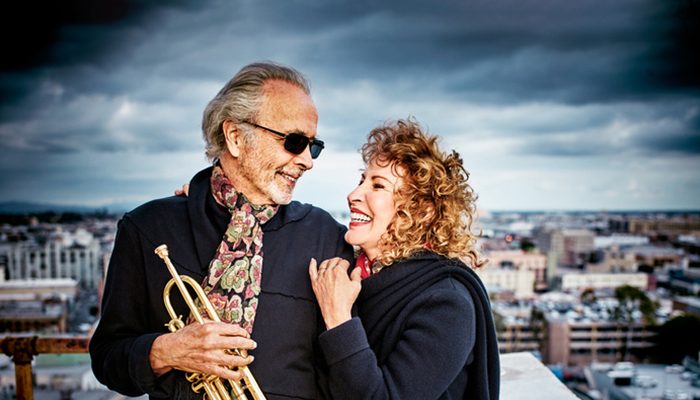 "Happy music… honest and uplifting" – New York Times
"Artists are the heart and soul of our country. If Police and Fire are first responders then artists are our second responders. We couldn't get through this without them." Herb Alpert
The last two years may have kept legendary trumpeter Herb Alpert and his Grammy-winning vocalist wife Lani Hall from completing their North American tour, but 2022 has shown the dynamic duo is making up for lost time, both creatively and performance-wise. On September 30, 2022, Herb released his latest album, the 11-track Sunny Side of the Street which includes six original compositions and the hit singles "I'll Remember You," Louis Armstrong's "On the Sunny Side of the Street," as well as "Tickle Time," "Here She Comes" and "Pata Pata."
In January 2022, Lani Hall released Seasons of Love, her first album in 24 years. Emotionally and thematically, Seasons of Love reflects the depth and breadth of Lani and Herb's 49 years as marriage partners and artistic collaborators. On the LP, Lani brings her rich life experience, deepened perspective and accrued wisdom to a song cycle that explores the nuances of an enduring relationship.
Here is your chance to see two legendary performers. Music icon Herb Alpert & his wife Lani Hall, Grammy-winning vocalist and former lead singer of Brazil 66 with Sergio Mendes, and their classic recordings, "Mas Que Nada", "Fool On The Hill", "Going Out Of My Head" and "Daytripper."
Herb is celebrating his 60th year since recording his first hit song, "The Lonely Bull" in 1962. Herb, Lani and their incredible band perform an eclectic mix of American standards, Brazilian jazz, some Beatles, some classic Tijuana Brass & Brazil '66 songs as well as many surprises. The show features a giant video screen that displays hundreds of classic photos, videos and various memorabilia from Herb & Lani's music careers. A really exciting show with two legendary performers!
LEARN MORE: https://herbalpert.com/