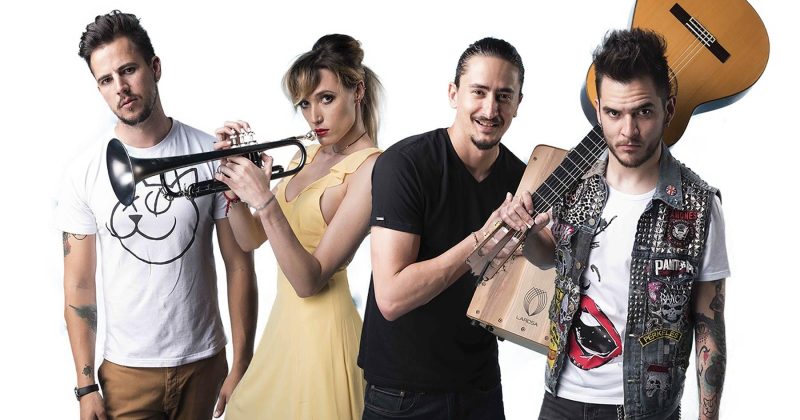 "The band's high-energy shows are unforgettable, as is its sound." – NPR
Jenny and the Mexicats: it's a fusion of nationalities and personalities, a band that has a very particular history. The band began in Madrid as Pachucos y la Princesa, in June 2008.
It all started when Icho (double bass) invited Jenny to live in Madrid. Jenny in her 20s had come to the right place. Icho called the best guitarist he knew: Pantera, a guitarist with very versatile flamenco technique. They had played together for many years in a rockabilly and punk band in their hometown in Mexico.
Pantera proposed a cajon player that he played with in the world of flamenco. Enter David, an extraordinary Spanish cajon player. And that's how they all got together.
That's how a little adventure of an English girl started and gives rise to Jenny and the Mexicats.
Their first concert was Wonderland, a small festival that generates money to help cancer research in the UK, in August 2008. The roots that this new sound carried made Jenny start to compose a lot, and Jenny and the Mexicats started to rehearse in the place where everyone had met… a flamenco tablao, las carboneras.
"What they've done with their influences is create this really impressive mix of rockabilly, cumbia, jazz, flamenco, and they perform it in both English and in Spanish – a very cool sound." – Felix Contreras, NPR's Alt Latino. A jazz kit played with sticks and mano, an upright bass tattooed with comely women, jaunty Caribbean-influenced acoustic guitar and a beautiful blond siren with, yes, a trumpet. Do you wanna dance yet? Jenny will lure you in with her bluesy no-nonsense voice.
Recommended for Fans of Kinky, Ximena Sariñana, Silvana Estrada and Lila Downs.
LEARN MORE: https://www.jennyandmexicats.com/