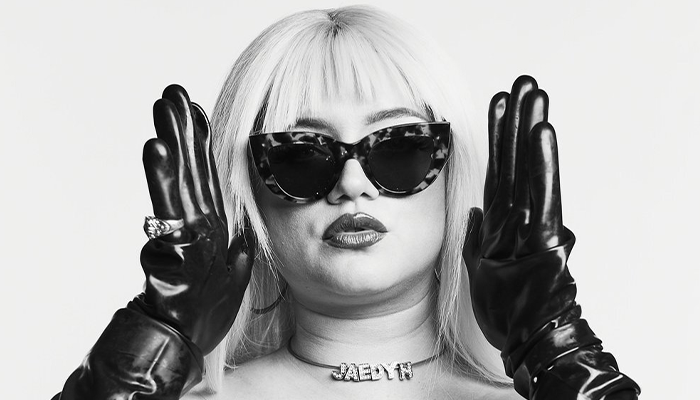 "Sultry and powerful R&B… fierce" – Maximum Ink
Loving You So Hard showcases Jaedyn's abilities as a powerhouse singer, songwriter and creative producer. Her larger-than-life personality is on full display throughout this colorful and dynamic album. From tender love songs dripped in ache to catchy feminist anthems you won't be able to shake. It's a masterful blend of Midwest soul and R&B.
Loving You So Hard feels both vintage and modern at the same time – a sound and style James is known for. Jaedyn and her team poured a tremendous amount of love and time into this project to tell her poignant perspective on love and her trials of survival. Do not miss this legendary celebration where Jaedyn takes Loving You So Hard in its entirety to the stage for the very first time.
Jaedyn James is renowned for her live performances. She is a vivacious, outspoken, body-positive, powerhouse singer, artist, producer and bandleader. She's deeply empowering, engaging and invites you into the deepest parts of her soul. James' sound is influenced by Etta, Janis, Prince, Dolly Parton, and Amy Winehouse.
Jaedyn is honored to be sharing the night with Ehn Jey as he played a pivotal role in writing and producing background vocals for Loving You So Hard. 
Ehn Jey is a monumental singer, songwriter, producer, and dancer constructing his own take on R&B for the next generation.
Under his previous moniker Nick Jordan, Jey has been recognized for his contributions to the Minneapolis music scene (Star Tribune's Best New Band, City Pages' Best R&B Artist) as well as shared the stage with major label recording artists (Aminé, Kiana Ledé).
Accompanied by an ensemble of well-rehearsed musicians and dancers, JEY's live shows are a one-of-a-kind, interdisciplinary experience. This level of energy and attention to detail also landed him in the top 3 of Star Tribune's Best Live Acts in the company of Lizzo and The Revolution.
LEARN MORE: https://www.jaedynjames.com/