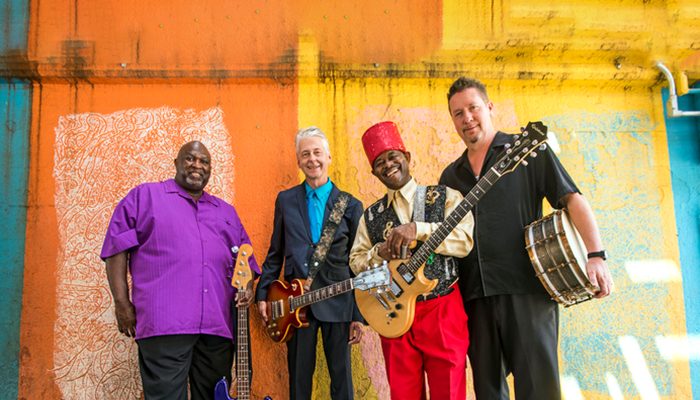 "Electrifying, raucous, pure Chicago blues" – Chicago Tribune
In Chicago, a city overflowing with unrivaled blues talent, world-renowned Lil' Ed & The Blues Imperials have been standing tall for over 30 years. The band's big sound, fueled by Lil' Ed's gloriously rollicking slide work and deep blues string bending, along with his rough-edged, soulful vocals, is as real and hard-hitting as Chicago blues gets. The Chicago Sun-Times says, "Lil' Ed & The Blues Imperials are the hottest purveyors of bottleneck boogie to come out of Chicago since Hound Dog Taylor."
Lil' Ed Williams comes to the blues naturally. His uncle, Chicago slide guitar king and master songwriter J.B. Hutto, taught him how to feel, not just play the blues. Nine albums and thousands of performances later, Lil' Ed is now universally hailed as a giant of the genre. Lil' Ed and The Blues Imperials —bassist (and Ed's half-brother) James "Pookie" Young, guitarist Mike Garrett and drummer Kelly Littleton— have remained together for over 30 years, an extraordinary feat for any group, the band fueling Ed's songs with their rock-solid, road-tested, telepathic musicianship.
The group took home the Living Blues Award for Best Live Performer in 2011, 2012 and 2013. They won the prestigious Blues Music Award for Band Of The Year in both 2007 and 2009. The Associated Press says, "Williams fills Chicago's biggest shoes with more life and heat than anyone on stage today."
Their infectious energy, joyful showmanship and masterful playing have been honed to a razor's edge by their many years together. Lil' Ed, Pookie, Mike and Kelly have seen sports stars and presidents, musical fads and fashion trends come and go.
Meanwhile, their fiery music has more than stood the test of time. "We're not band members," says Williams, "we're family, and families stay together." Night after night, gig after riotous gig, the musical family called Lil' Ed & The Blues Imperials bring their big, dynamic Chicago blues sound to fans across the country and around the world.
LEARN MORE: https://www.liledblues.com/