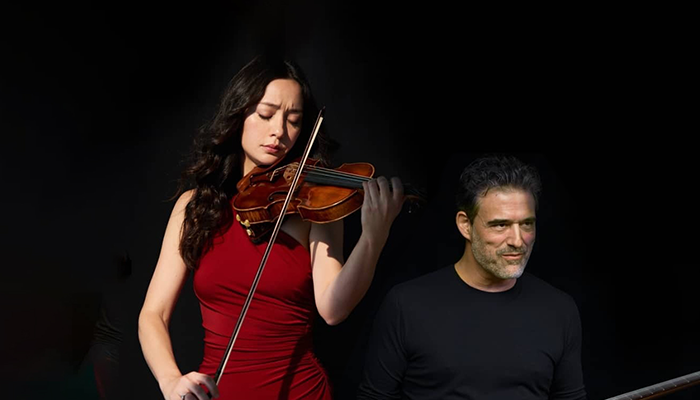 "A violinist of heart-melting talent." – The Wall Street Journal
Join violinist/vocalist Lucia Micarelli and guitarist Leo Amuedo for an intimate night of music showcasing their diverse influences. They move from jazz to classical to traditional fiddle music, Americana, and Latin, while creating a musical map bound together by Lucia's trademark emotional vulnerability and Leo's technical wizardry.
A superb classical musician, Lucia Micarelli is recognized throughout the world for being a featured soloist with Josh Groban, Chris Botti, Jethro Tull, and also for her starring role on the critically acclaimed HBO series Treme. Since then, Lucia's profile has continued to soar. In 2018, Lucia appeared in her first PBS concert special, which aired throughout the US and spawned a live album. In 2020, Lucia joined the Hallmark Family and starred in the Hallmark Movies & Mysteries holiday movie The Christmas Bow. Having been influenced by her experience on Treme, she's absorbed many types of musical styles and has since added singing to her repertoire.
Born in Montevideo, Uruguay, Latin Grammy nominee Leo Amuedo learned his first guitar chords when he was four years old and has grown into one of the top guitarists performing today. He is best known for touring with Chris Botti and Ivan Lins, as well as his recordings with Barbra Streisand, Stevie Wonder, and Julieta Rada.
Recommended for Fans of Josh Groban, Chris Botti, Lula Galvão and Ricardo Silveira.
LEARN MORE: http://www.luciamicarelli.com/
LEARN MORE: https://www.leoamuedo.com/