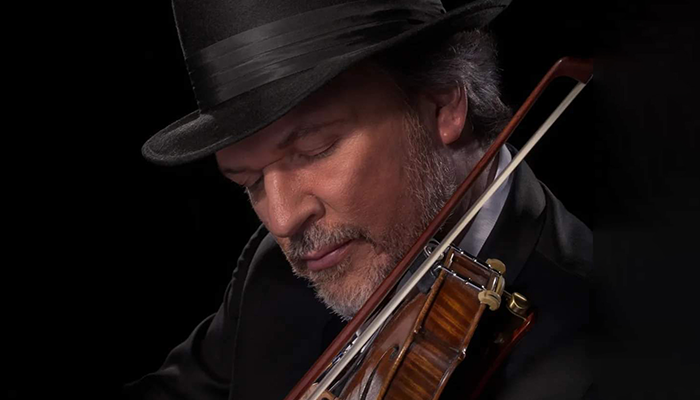 "a national treasure" – Wynton Marsalis
Crossing Bridges, Mark O'Connor's aching memoir, traces his journey from his childhood years when at age 10 he was winning classical guitar competitions against University graduates, and at age 12 was thrust as a soloist onto the Grand Ole Opry stage introduced by the "King of Country Music," Roy Acuff. The story covers O'Connor's 1970s child prodigy years on the road as national fiddle and guitar champion. The acclaimed musician learned at the feet of American music legends while exploring his relationships with his mother, dysfunctional family, a near career-ending accident and his involvement in some of the world's most iconic instrumental bands. O'Connor's memoir details the personal triumphs, struggles and demons that informed the decisions he made about his music, career path and the risks he was willing to take for a shot at the brass ring.
PROGRAM
1st Set: Music from Mark & Maggie O'Connor.
2nd Set: Mark discusses memoir anecdotes and Q&A.
Post-concert book and CD signing.
With three Grammy wins, seven CMA Awards, and multiple national fiddle, guitar, and mandolin champion titles, Mark O'Connor's music and career truly defy categories. In this new show, the Mark O'Connor Duo features both his originals and classics, and it highlights his violin, guitar, mandolin and vocals along with his wife, Grammy-winning Maggie O'Connor.
Going back several decades, he's been a member of legendary ensembles the David Grisman Quintet, The Dregs, and Strength In Numbers with Bela Fleck, Sam Bush, Jerry Douglas, and Edgar Meyer.
His solo career includes the multiple Grammy-winning album New Nashville Cats featuring his hit "Restless" with Ricky Skaggs, Vince Gill and Steve Wariner; and the hit sequel song "Devil Comes Back To Georgia" with Charlie Daniels, Johnny Cash, Travis Tritt and Marty Stuart on his Grammy-nominated Heroes album. Then there are recordings with Yo-Yo Ma, "Appalachia Waltz" and "Appalachian Journey" which sold one million copies and 250+ symphony performances of his "Fiddle Concerto." His TNN TV show American Music Shop had a four-year run with guests ranging from Bo Diddley to Emmylou Harris.
LEARN MORE: https://www.markoconnor.com/