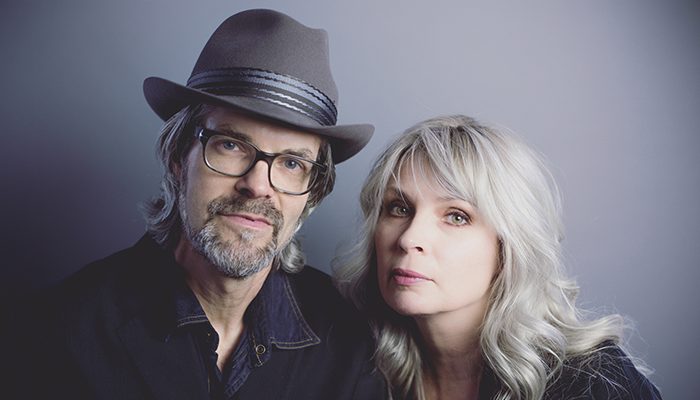 "true confessional masterpieces that know neither border nor boundary" – Paste
Over the Rhine is a band with a knack for capturing the sacramental beauties of home and place. Named after a Cincinnati neighborhood, this Ohio-based folk-rock duo has been performing and recording since 1989, achieving a status approaching reverence from fans and fellow artists. They got their start around the fertile art-pop and alt-country scenes of the late 1980s, and continue to navigate toward places of quietude and reflection.
Linford Detweiler (piano/guitar/bass) and Karin Bergquist (vocals/guitar) met while attending college in Canton, Ohio, and quickly found themselves together in a band called Servant. When that band dissolved, they decided to start making songs with their band. They independently released their first two albums, Till We Have Faces (1991) and Patience (1992) before getting a recording deal.
OTR has released 15 studio albums over the past 30+ years, to great critical acclaim. Paste magazine gave 2003's Ohio one of its first 5-star reviews. Paste also named 2011's The Long Surrender to its Top 50 Best Records of the year.
2019 saw OTR's most recent recording, Love & Revelation. Associated Press said, "Love & Revelation is a subdued but lovely celebration… It won't surprise longtime fans that the topics are often sad and the tempos mostly slow, all the better to showcase Bergquist's warm, wise, honest alto. She sounds better than ever, with a depth and richness that makes her voice resonate like a prayer."
Touring regularly since 1989, their live performances are sublime and magical. Bergquist and Detweiler recognize how special their live shows are; they have compiled 8 live albums thus far. OTR has shared the stage with Bob Dylan, John Prine, Adrian Belew, Squeeze, Ani DiFranco, My Morning Jacket, Hem, and toured as "adjunct" members of Cowboy Junkies.
LEARN MORE: https://overtherhine.com/