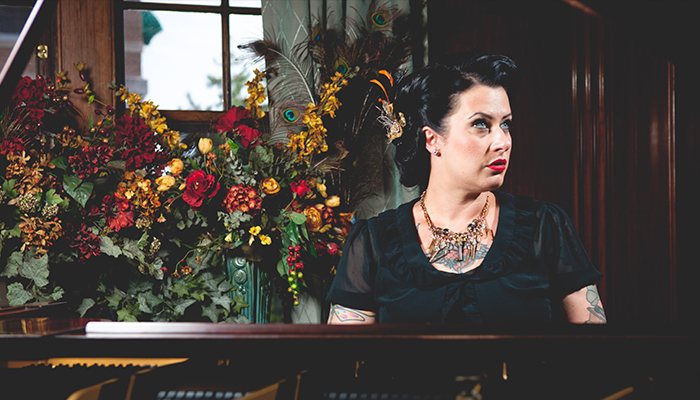 "Davina Sowers creates her own Americana mishmash — a little Amy Winehouse-worthy neo-soul there, a little Great American Songbook-influenced songcraft there..."
– Rolling Stone
THIS SHOW IS SOLD OUT
Cocktail Show w/$20 food voucher* + hats, horns and a glass of bubbly for the midnight toast!
Davina and The Vagabonds offer "a modern take on old-time blues and jazz" (PennLive). They've created a stir on the national music scene with their high-energy live shows, level A musicianship, sharp-dressed professionalism, and Davina's commanding stage presence. With influences ranging from Fats Domino and the Preservation Hall Jazz Band to Aretha Franklin and Tom Waits, the band is converting audiences one show at a time.
Menu includes favorites from the Dakota's regular menu plus special New Year's Eve a la carte options.
*voucher not applicable to beverages, tax, or gratuity.
NEW YEAR'S EVE SELECTS
Oyster Shot • 3
sake . yuzu . kombu . steelhead roe
Live Sea Scallop • 13
brown butter . fresno . dry aromatics . lemon . herbs
King Crab Omelette • 19
taleggio . enoki mushroom . chive . truffle . rye
Prime Beef Tenderloin • 19
potato pavé . carrot . cardamom . beet demi . smoke
Passion Fruit Posset • 8
caramélia chocolate . cocoa . fleur de sel . orchid
DAKOTA MENU
Pommes Frites • 8
+béarnaise 3
Cheese Plate • 18
olives . preserves . breads
Mussels • 18
parmesan broth . olive . boquerones
House Burger + Fries • 16
aioli . lettuce . brioche bun . american cheese
+bacon 3.50 | +onion/mushroom 2
Flatbread & Spreads • 16
dips and spreads
Caesar Salad • 8 / 14
tomato . egg . boquerones
SWEETS
Molasses + Banana Cake • 10
dark rum . pineapple . meringue . clove
Chocolate Peanut Butter Truffle • 10
sea salt . brownie . pb ice cream
Flan • 10
white chocolate . raspberry . mint cardamom
1919 Root Beer Float • 8
vanilla ice cream
Learn More: http://davinaandthevagabonds.com/