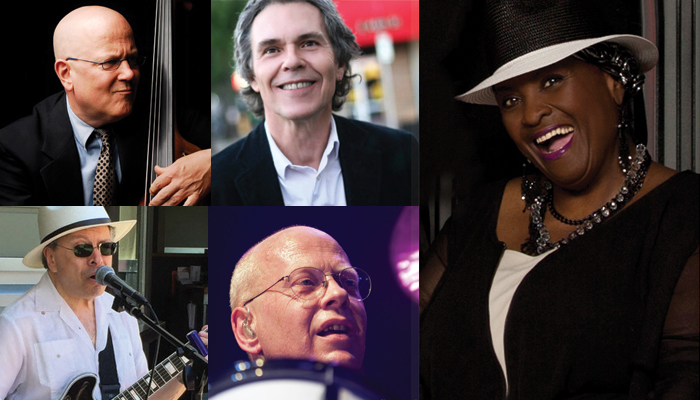 Inducted into the Minnesota Rock and Country Hall of Fame in 2007, Passage was an influential band comprised of an all-star cast of local musicians. The band is back with their varied personalities reflected in this musical mix of funk, blues and a bit of jazz fusion with ethnic rhythmic flavors playing songs by rock legends including Jimi Hendrix and Cream.
Gwen has performed at the famed "Montreal Jazz Festival" in Canada and the "Fleur de France Festival" in Paris, and, was featured in festivals and concerts throughout Europe with The Denis Colin Trio. She also toured Russia with "Women Who Cook" and traveled internationally with the Rupert's Orchestra.
Her career started by singing jingles in Minneapolis, later, in Los Angeles and New York. You can hear her golden voice on many National and local spots for Northwest Airlines, General Mills, Whirlpool and many others. Gwen recorded songs with the Emmy Award winning group "The Music Workshop For Kids" and traveled world-wide for such corporate clients as: Bandag, All-State Insurance, Johnson and Johnson, and the Radisson Hotel Chain.
Her move to Los Angeles lasted eleven years where she worked for many musical giants from nationally acclaimed producers to hit-making songwriters, who sought her for studio background and stage performances. Gwen has recorded with Stevie Wonder, the late Skip Scarborough, Frank Wilson, Phillip Bailey of EWF and Larry Dunn, also of EWF, Lamont Dozier, Susanne DePasse of Motown and Ronnie Laws & Norman Connors. Periodically, she would be asked to arrange and sing background parts for their recording projects. At times, singing sessions with the noted group "Silk".
While in L.A., Gwen studied four years under world-renowned vocal technician Seth Riggs, a gift to her from her friend Stevie Wonder. Another highlight in the late 90's was when she appeared on the Oprah Show.