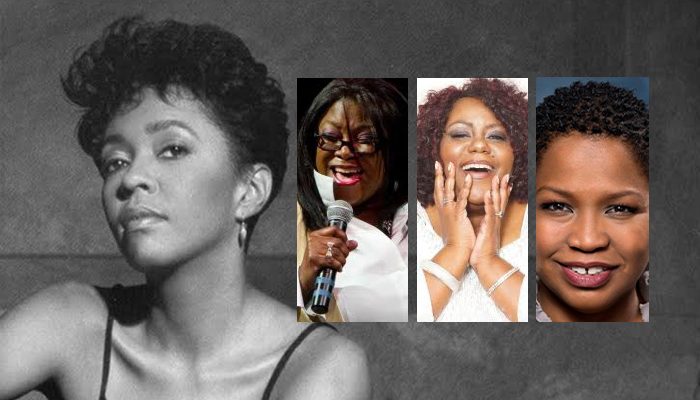 NEARLY SOLD OUT. Please contact the box office at 612-332-5299 for seating options.
"intensely, passionately romantic… sophisticated pop-soul" – New York Times
Anita Baker is responsible for some of the sexiest moments in recorded music. "The Queen of Quiet Storm" had a memorable run of hit singles in the 80s, and is still making incredible music today! Make your Valentine's weekend memorable: don't miss the debut performance of this show, sung by some of the finest voices in Minnesota. This all-star collection of Twin Cities talent celebrates her biggest hits and her enduring sound.
With her classy, refined brand of romantic soul, Anita Baker was one of the definitive voices of R&B in the 1980s. While she is often associated with the quiet storm genre, Baker's sound incorporates not only R&B, but also elements of jazz, gospel, and pop. Smooth and mellow, Baker's strong, vibrant voice made her one of the most popular romantic singers of her time.
A member of the Midwest music scene for many years, Ginger Commodore is a regular visitor to the Dakota stage. Classically trained, gospel-influenced, and jazz-inspired, Ginger's musical foundation is a true amalgam of musical styles presented with her own unique delivery.
Originally from Chicago, Kendra Glenn realized her gift of singing at age 10 in the church choir. Kendra moved to the Twin Cities in the early 90s and has made herself a household name, working with Nicholas David, R Factor, Scott Holt, and many others.
Aimee K. Bryant is an actor, vocalist, director, teacher and songwriter, rooted in soul music, joy, and curiosity. A Howard University graduate, she is currently starring inthe bull-jean stories and recently directed Memphis at Artistry.
Band:
Deevo Dee, guitar
Brian Ziemniak, keyboards
Tony Axtell, bass
Brian Kendrick, drums
Daryl Boudreaux, percussion
LEARN MORE: https://www.facebook.com/MidAmericaTalent