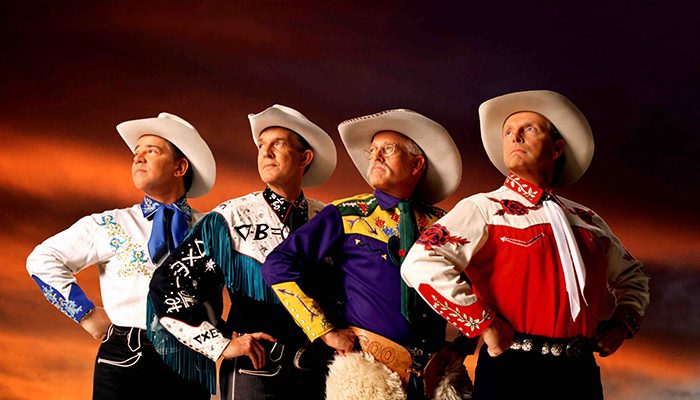 This is a rescheduled performance originally set for Oct 2, 2022
---
"their musicianship remains tight and precise" – Billboard
40 years ago, three young men with drive and wit wanted to keep special music alive. They believed in preserving the heritage of Western music and presenting it to a new generation. They believed in entertaining, and they did so… entertaining themselves as well as the audience! And they believed in creating original Western music to continue the tradition, not just seal it in amber as a museum piece. They did not realize at the time that they would be doing the same thing 40 years later.
Initial success included appearances on Austin City Limits; recording contracts with Rounder, then MCA, then Columbia; guest appearances on the Grand Ole Opry leading to membership in 1982; and a three-year run on The Nashville Network with a TV show called Tumbleweed Theater, which yet in turn led to a seven-year run on public radio with Riders Radio Theater.
More recordings, endless show dates, and television appearances followed before the fine folks at Pixar called and asked the quartet – by this time they had been joined by Joey the Cowpolka King – to sing a tune called "Woody's Roundup" in the movie Toy Story 2. That led to a number of projects for Disney, including two albums, both of which won Grammy Awards!
The creation of satellite radio has recently given them a new platform, as they continue to produce episodes of the award-winning Classic Cowboy Corral on Sirius/XM.
With still more road dates and recordings and other film and television projects, the numbers begin to add up: an astonishing 7,200+ appearances, 35 years on the Grand Ole Opry, 40 records, and tours of all 50 states and all over the world.
Ranger Doug, Too Slim, Woody Paul and Joey the Cowpolka King… 40 years on, The Cowboy Way.
Recommended for Fans of Roy Rogers, Asleep at the Wheel, Gene Autry and Hot Club of Cowtown.
LEARN MORE: https://www.ridersinthesky.com/