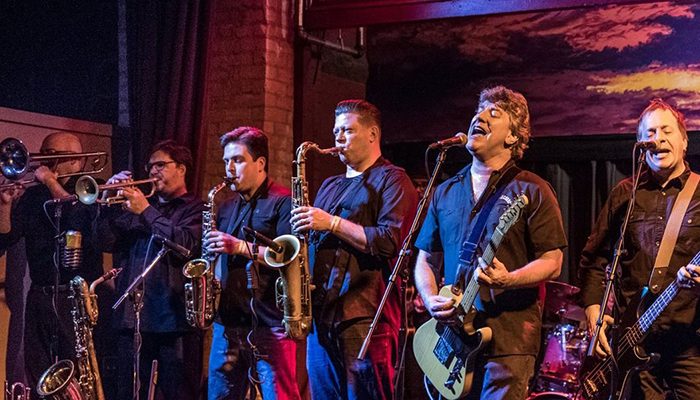 NEARLY SOLD OUT. Please contact the box office at 612-332-5299 for seating options.
"conjures up the spirit and the songs of Ireland's greatest export" – Chicago Tribune
The Belfast Cowboys is a nine-piece, horn-driven band from Minneapolis that specializes in the music of Van Morrison, mixing rock, blues, roots and soul sounds. Led by veteran songwriter and guitarist Terry Walsh and powered by a four-piece horn section, the Cowboys have flourished in the renowned Minnesota music scene, and have consistently packed houses and wowed crowds since 2002.
Terry Walsh got his start playing in various Twin Cities rock bands and toured as Slim Dunlap's bass player in 1997, opening for Son Volt. In 2001 the idea to form a Van Morrison tribute band was formed, and Terry spent the rest of the year learning Van songs and building an all-star band, with Joe Loskota on keyboards and Vic Volare to run the horn section. The band played their first show at the old 400 Bar on Saint Patrick's Day 2002.
Many musicians played with the band over the first few years, and continue to do so today, but the 'A' team was soon established: Dan Kowalke on guitar and backing vocals, Joe Baumgart (bass), Dave Kirby and Dave Haugen (drums, backing vocals), Joe Loskota (keyboards, backing vocals), Paul Gronert (sax), Matt Hanzelka (trombone), Tim Martin (trumpet), Vic Volare (sax, flute) and Terry Walsh (lead vocals, guitar, harmonica, piano).
The band has expanded its content over the years to include rock and soul covers along with Terry's own originals, which have become fan favorites. Now a beloved staple in Minnesota, the 9-piece Belfast Cowboys averaged over 120 shows a year before the pandemic. The bar-tested troubadours are known for playing epic sets at their weekly Minneapolis gigs and drawing large crowds to outdoor festivals. Occasionally they'll venture beyond the Midwest to play Ireland, Phoenix, New York's Times Square, and once opened for the band Chicago in front of 15,000 people.
Gwenifer Raymond began playing guitar at the age of eight shortly after having been first exposed to punk and grunge. After years of playing around the Welsh valleys in various punk outfits she began listening more to pre-war blues musicians as well as Appalachian folk players, eventually leading into the guitar players of the American Primitive genre. It was then that Gwenifer began writing her own moody and often-times manic original American Primitive styled compositions and started playing shows around the UK.
LEARN MORE: https://belfastcowboys.com/