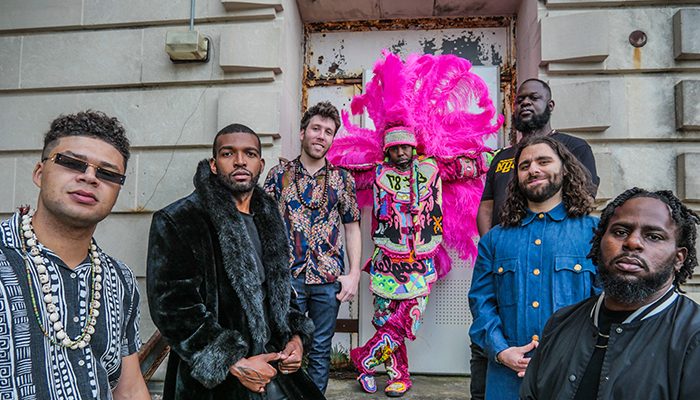 DAKOTA DEBUT
"a must-see event… uniquely irresistible" – SPIN
On Mardi Gras morning, your eyes may feast on the intricate and elaborate beadwork of the Indians as they dance down the street, but the first thing you'll hear when they make their way toward you is the back line, known as "the rumble" featuring six Grammy-nominated musicians, The Rumble is more than just a band—it's an opportunity to be immersed in a wholly unique facet of New Orleans culture.
Composed of Second Chief Joseph Boudreaux Jr. of the Golden Eagles, trumpeter Aurélien Barnes, trombonist José Maize Jr., bassist TJ Norris, guitarist Ari Teitel, keyboardist Andriu Yanovski, and drummer Trenton O'Neal, the group fuses iconic New Orleans funk in the vein of The Meters and The Neville Brothers—but updated, modern and vibrant befitting the next generation—with electrifying brass and the singular visual splendor of the Black Masking carnival tradition.
Their live show is a symphony of rich color and propulsive sound, with each member sharing vocal duties and engaging the audience in the classic Mardi Gras Indian-style call-and-response chanting. The group pays homage to trailblazers like Wild Magnolias and Golden Eagles, both of which featured the vocal stylings of Boudreaux's father, Monk Boudreaux.
The Rumble continues the fight to preserve the legacies and traditions of the community for the next generation while bringing new layers of depth to their live performance. The Rumble provides audiences with not only a top-tier musical event but a chance to participate in a culture that, while deeply rooted in centuries-old tradition, is thriving and evolving through the active work of this next generation of bold and passionate culture-bearers.
For nearly two decades, the Southside Aces have performed traditional New Orleans jazz for weddings, festivals, clubs, and more—music furnished for all occasions. The Aces utilize the traditional canon for its sweetness and spice, joy and sorrow, whatever the mood should call for.
Since their first gig in August 2003, the Aces have released six albums, including their most recent—How Long Blues—featuring piano master Butch Thompson.
In New Orleans, the jazz tradition thrives off a wide array of styles. The Aces possess a diverse repertoire, with a roll call that includes the names of Louis Armstrong, Jelly Roll Morton, Hoagy Carmichael, Duke Ellington, and Bix Beiderbecke.
LEARN MORE: https://therumbleband.com/
LEARN MORE: https://www.southsideaces.com/