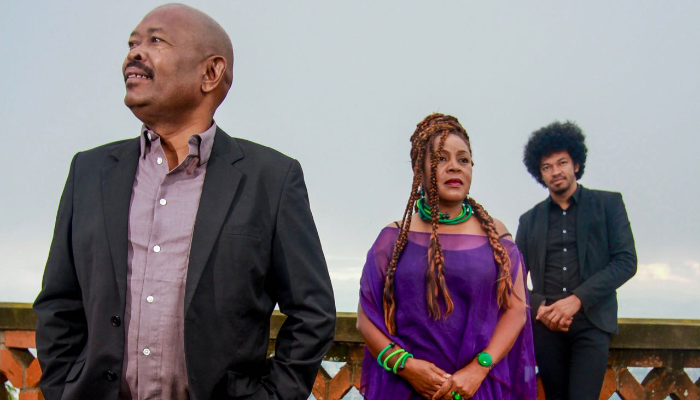 "Three of the most recognized folk artists from the island of Madagascar... Toko Telo has a synergy all its own."
– NPR
Toko Telo, a Malagasy supergroup, reinvents traditional musical styles – tsapiky, jihe, beko – with unequalled artistry.
"All three of these artists come from southwest Madagascar where, beyond the coastal beaches, the territory's a little like the Wild West, a land of cattle rustlers and mineral mines and tough characters of the dry savannah. Though they've mostly spent their days in Madagascar's highland capital or abroad, their concerns in these songs remain in the place that they grew up…(and) they've created perhaps the best introduction yet to Madagascar's utterly alluring folk music. Only one guitarist in the world plays with this kind of fleet, darting lightness and precision – D'Gary, the self-styled fingerpicking genius who burst on the scene back in the '90s and has been dropping jaws ever since." –NPR
Members:
D'Gary (guitar, vocals)
Monika Njava (percussion, vocals)
Joël Rabesolo (guitar, vocals)
Join us for dinner before or during the show. Explore our menu >>  Did you know that we offer a premium seating option for those who pre-order a $39 food/beverage voucher? Call 612-332-5299 to learn more and order.

D'Gary is Madagascar's most well known musician. D'Gary splashed onto the world music scene in the early 90s in a famous collaboration with musician/producers David Lindley and Henry Kaiser.
Monika Njava is celebrated across Madagascar as the national diva, Monika Njava sang lead with Njava, recording two critically acclaimed albums for EMI.
Joël Rabesolo is the most celebrated guitarist of his generation in Madagascar, he interprets the island's rich array of regional styles with sophistication and extraordinary inventiveness.
Learn More: http://www.toko-telo.com