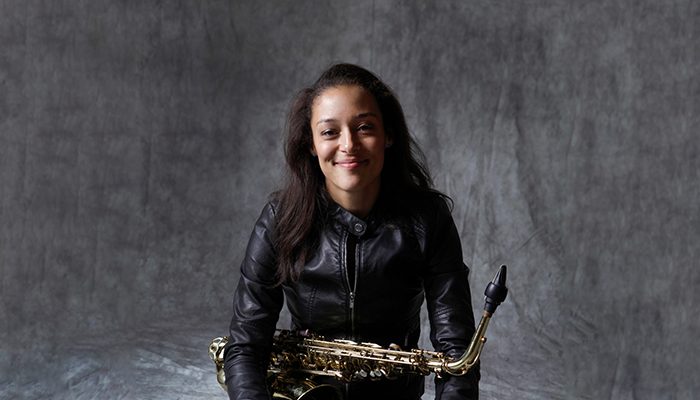 "There's a young lady [Vanessa Collier] that came onstage with me… she's playing an alto saxophone, and man, she was amazing."
– Buddy Guy
Vanessa Collier blends rock, soul and blues, and is a winner of three Blues Music Awards, including a 2022 Award for Contemporary Blues Female Artist. This year Vanessa is busy touring summer festivals highlighted by shows at the Rochester International Jazz Festival, RBC Ottawa Blues Festival, Winthrop Rhythm & Roots Festival and a two-week tour of Europe.
If you haven't been fortunate enough to meet Vanessa and witness one of her head-turning, fiery, and passionate performances, you should definitely make sure you do. As a master musician and multi-instrumentalist, Vanessa Collier, weaves funk, soul, rock, and blues into every powerful performance and she is downright impressive. With soulful vocals, searing saxophone, and witty songwriting, Vanessa is blazing a trail, racking up an impressive arsenal of honors, and has already singled herself out as an artist of distinction and one we would all do well to watch.
Vanessa graduated with a dual degree from the prestigious Berklee College of Music and was invited to play alongside Annie Lennox and Willie Nelson at Berklee's commencement address. She also worked with Kathy Mattea, Bill Cooley, Patrice Rushen, and many more visiting artists while studying at Berklee. Her influences include among others Bonnie Raitt, Norah Jones and The Wood Brothers.
Blues Blast Magazine affirms, "Vanessa Collier is a fresh face on the American blues scene, and in addition to her soulful vocals, she brings a mighty sax to the table…" Blues Music Magazine proclaims, "Collier commands center stage with her vocals, soloing, and stage presence." Midwest Record exclaims, "This bluesy singing sax player knows how to bring the slinking funk to her captivating, award-winning sound that has echoes in young Bonnie Raitt/Maria Muldaur vocal sounds…Killer stuff on every level, this sounds like one of the reasons you first became a music fan. Killer stuff."
LEARN MORE: https://www.vanessacollier.com/