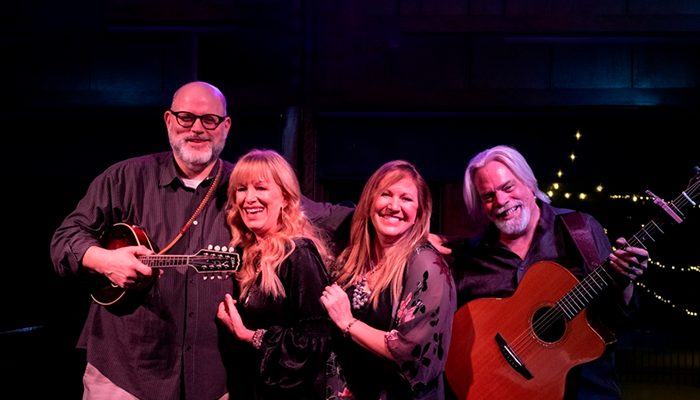 "golden vocal cords… hot, high-caliber band" – Pioneer Press
Two Girls & A Boyd was born out of a love for rich, complex vocal harmonies. These veterans of stage and studio combined forces to create an exciting and rich live musical experience. The original trio, featuring vocalists Mary Jane Alm and Aimée Lee and guitarist/vocalist Boyd Lee performed for the first time under this name in late 2017 to immediate critical acclaim. Shortly thereafter, vocalist and mandolin guru Richard Kriehn of A Prairie Home Companion fame joined the group, throwing down smokin' hot instrumental solos amidst lush and expressive vocals. Creative, unique arrangements of familiar (and some not-so-familiar) favorite songs are the hallmark of Two Girls & A Boyd with Richard Kriehn.
Mary Jane Alm is one of the Midwest's most remarkable and best-known performers. She has toured internationally, been featured on national network TV and advertising, and has performed on some of the region's largest stages. Honored with fifteen Minnesota Music Awards and a member of the Minnesota Music Hall of Fame, Mary Jane's performances have been called "music for singers". She has performed with The Judds, Charlie Daniels, Willie Nelson, Marie Osmond, David Byrne, and countless others.
Aimee Lee has been described as a musical chameleon, her voice evoking emotion whether she's performing blues, country, rock, or jazz. She has toured internationally throughout Europe and Puerto Rico, as well as across the U.S. Aimée Lee has worked for years as a first-call vocalist with numerous bands in the Twin Cities. Aimee regularly performs in multiple tribute show productions.
A veteran of the twin cities since 1986, Boyd Lee began his music career with the jam band The Spaceheaters, one of the Twin Cities' largest drawing bands for over 8 years. Beginning in 1995 Boyd began focusing his attention on acoustic music; writing, recording and performing for himself and others. As one of the Twin Cities' most sought-after guitarists and vocalists, Boyd can be found performing both as a solo artist and with The Tex Pistols Band, Mary Jane Alm, Aimee Lee & the Snazzy Band and The Fabulous Armadillos. He has produced and/or performed in numerous original and tribute musical productions.