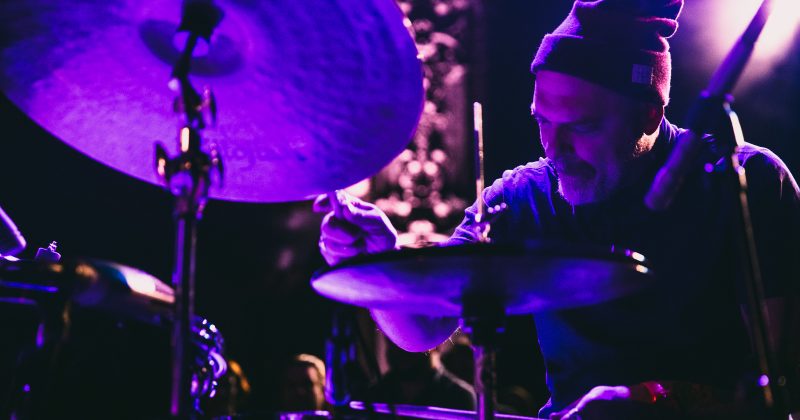 "one of the most sought-after and globally renowned timekeepers in jazz" – Minnpost
Prolific drummer/composer Dave King is well known for his propulsive work in a number of different bands. From The Bad Plus to Happy Apple to Halloween, Alaska, each group has its own sound and approach, but all are approached in a steadfast manner. These groups are all serious units of focused players who are completely dialed in, honing a solid band sound and identity. King's attraction to a strong group concept led to the creation of his Trucking Company band and his increasing focus thereon.
The Trucking Company's long-awaited fourth recording, Old TV, was released in 2023. With it, they solidify their identity with new material. The Minnesota-New York connection has always been key, with Minneapolis-born, Brooklyn-based bassist Chris Morrissey adding a unique personality and songwriting. The ensemble also features the saxophone (and clarinet!) of Brooklynite and fellow Bad Plus member Chris Speed alongside Minnesotans saxophonist Brandon Wozniak and guitarist Erik Fratzke.
Dave King is one of modern improvised music's most thoroughly original artists. Known primarily as a jazz artist, he works seamlessly in many genres and styles. He is a founding member of Happy Apple, The Bad Plus, Halloween, Alaska, The Gang Font, and many other groups. He has performed in 75 countries on six continents.
In addition to his regular groups, he has worked with Bill Frisell, Joshua Redman, Jeff Beck, Leo Kottke, Mason Jennings, Jason Moran, Atmosphere, and many others. He has also worked extensively with the Mark Morris Dance Group.
LEARN MORE: https://www.daveking.net/
📸: Cory Dewald