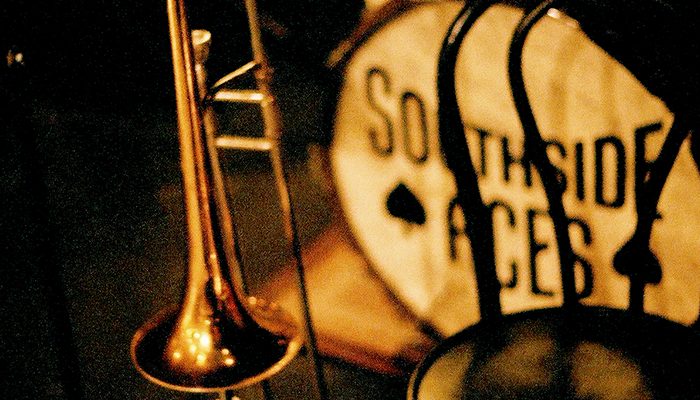 This event is SOLD OUT.
"A true authentic New Orleans dance-hall style band."
– New Orleans Traditional Jazz Quarterly
For nearly two decades, the Southside Aces have performed traditional New Orleans jazz for weddings, festivals, clubs, and more—music furnished for all occasions. The Aces utilize the traditional canon for its sweetness and spice, joy and sorrow, whatever the mood should call for.
Since their first gig, in August 2003, on a flatbed truck in Apple Valley, the Aces have released six albums, including their most recent—How Long Blues—featuring piano master Butch Thompson.
In New Orleans, the jazz tradition thrives off a wide array of styles. The Aces possess a diverse repertoire, with a roll call that includes the names of Louis Armstrong, Jelly Roll Morton, Hoagy Carmichael, Duke Ellington, and Bix Beiderbecke.
Dakota Easter Brunch Menu
OPENING ACTS
Deviled Eggs $7
Crab Salad; Grapefruit, Avocado $18
Pimento Grilled Cheese Tea Sandwiches $12
Granola Yogurt Parfait $12
HEADLINERS
Shrimp & Grits; Corn, Andouille $24
Shirred Eggs; Mushroom, Truffle, Toast $22
Dakota Cheeseburger $15; Add Bacon $2; Add Pimento Cheese $2; Add Fries $2
Wagyu Steak and Potato Salad $29
Pancakes with Caramelized Banana $22
SIDE ACTS
Grits & Maple Syrup $8
Seasonal Fruit $8
Bacon $8
Cheddar Drop Biscuits $9; Add 'Dirty Gravy' $7
"Put An Egg On It!" (poached egg) $3
CURTAIN CALLS
Dakota Cheesecake $14
Strawberry Rhubarb Galette; Ice Cream $14
KIDS' MENU
Cheeseburger $9
Fries $4
Tater Tots $4
Silver Dollar Pancakes $8
Scrambled Eggs $8
COVID-19 Policy
Effective immediately, all performances at the Dakota will require either proof of a full course of COVID-19 vaccination or proof of a negative COVID-19 test taken in the prior 72 hours. Patrons must have a completed COVID-19 vaccination card or a photo of their card, with their final dose at least fourteen days prior to the event, or a negative COVID-19 test result from 72 hours or less prior to the event. Thank you for helping to keep everyone safe. More COVID Policy details here >>
Learn More: https://www.southsideaces.com/