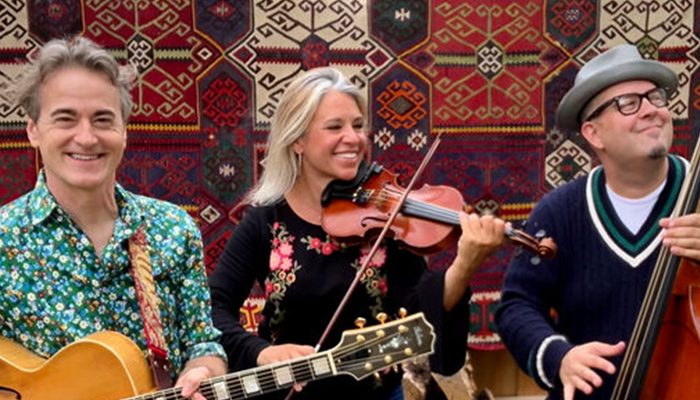 "an arsenal full of technique and joy." – The New York Times
Since its beginnings in the late 1990s, the Hot Club of Cowtown's star has continued to rise as its reputation for jaw-dropping virtuosity and unforgettable live shows has become the band's global brand. Lauded for its "down-home melodies and exuberant improvisation" (The Times, London), the Hot Club has always woven a combination of seemingly disparate styles together to its own magical effect, setting up camp "at that crossroads where country meets jazz and chases the blues away" (The Independent), remaining "conscious always that above all else, the music is for dancing and an old-fashioned good time" (New York Times).
The band's musical alchemy has been described as "another breathless journey in the Texas tardis" (The Times, London), while American Songwriter observed that "the excellent three players of this band could be doing anything but have chosen to honor the greats of jazz and swing with their sound." The Belfast Telegraph calls the Hot Club of Cowtown "a pretty much perfect country trio at the very top of their game."
The Hot Club of Cowtown has toured extensively worldwide for over twenty years, both on its own and with artists including Bob Dylan, Willie Nelson, Gatemouth Brown, the Avett Brothers, Dan Hicks, Bryan Ferry, Roxy Music, the Squirrel Nut Zippers, and others. Festivals/career highlights include the Women in Jazz series (part of Jazz at Lincoln Center), the Cambridge Folk Festival (UK), the Glastonbury Festival (UK), the Fuji Rock Festival (Japan), Byron Bay Blues & Roots Festival (AU), the Winnipeg Folk Festival (CA), the grand opening of the Country Music Hall of Fame and Museum in Nashville, Tennessee, and being inducted into the Texas Western Swing Hall of Fame.
LEARN MORE: https://hotclubofcowtown.com/