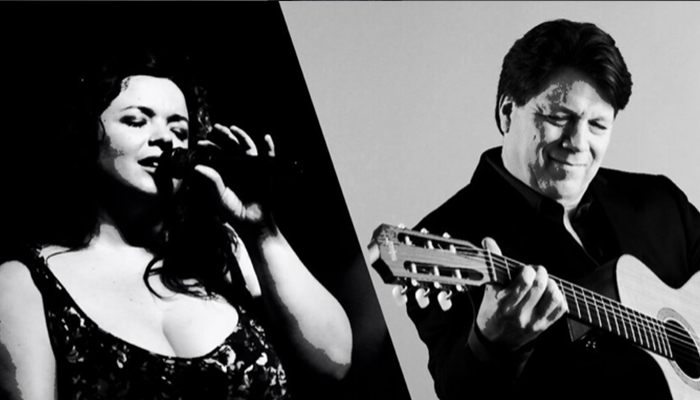 "Sweet singer with a thrilling vibrato…" — Burlington Post
A dynamic duo with the tenderness of Ella Fitzgerald & Joe Pass and the rhythmic excitement of Tuck & Patti, Jennifer Grimm & Joe Cruz have joined forces to bring their passionate talents together on one stage. During this intimate concert, Grimm and Cruz will be performing some of their yet-to-be-recorded originals as well as some of their favorites off their respective records, "After Noon" and "Pasión," as well as selections off their debut duo album, I Love You.
Some of Jennifer's credits include performing at Carnegie Hall; Johnny Mercer Songbook Series at the Ordway; Steerage Song at the Fitzgerald Theater; earning the #2 spot on Aruba's year-end top 100 countdown; performing in New York City with shining press in The Village Voice; opening up for Oleta Adams at the St. Vincent Blues Festival; performing on Garrison Keillor's (creator of A Prairie Home Companion) Rhubarb Show; sharing performance events with Huey Lewis and The News, Michael Buble, and Martina McBride; starring in the Ordway's production of My Way, A Musical Tribute to Frank Sinatra; and being the voice of the World Figure Skating Champions Tour theme song.
Joe Cruz is regarded as one of the most versatile and energetic multi-stringed instrumentalists on the Twin Cities music scene today. Throughout his 30-year career, this passionate musician has been involved with numerous groups and recording projects, developing a vast array of styles. On any given night he can be found playing anything from solo acoustic guitar to screaming electric, swinging with a jazz combo, picking mandolin in a bluegrass band or exploring Latin music on Cuban trés and Puerto Rican cuatro. He currently performs solo, as well as with his trio, Scenic Roots. He also plays regularly with fiddler Brian Wicklund &The Barley Jacks and with blues piano man Scottie "Bones" Miller.
LEARN MORE: https://jennifergrimm.com