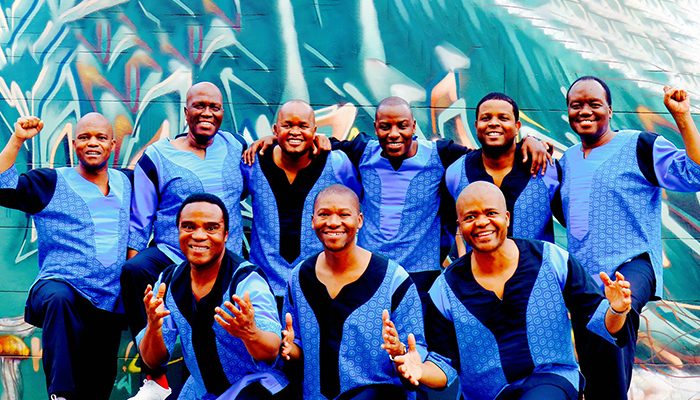 "It isn't merely the grace and power of their dancing or the beauty of their singing that rivets the attention, but the sheer joy and love that emanates from their being." – Paul Simon
Since the world discovered their powerful a cappella vocals from Paul Simon's Graceland album, South Africa's five-time Grammy award-winners, Ladysmith Black Mambazo has warmed the hearts of audiences worldwide with their uplifting vocal harmonies, signature dance moves, and charming onstage banter.
Ladysmith Black Mambazo have been creating joyous and uplifting music for nearly 60 years. Within this music are the intricate rhythms and harmonies of their native South African musical traditions. In those years, the a cappella vocal group has created a musical and spiritual spirit that has touched a worldwide audience. Their musical efforts have garnered praise and accolades from a wide body of people, organizations and countries.
Assembled in the early 1960s in South Africa, the group took the name Ladysmith Black Mambazo: Ladysmith, the name of bandleader Joseph Shabalala's hometown, about three hours west of Durban and 3 hours east of Johannesburg; Black being a reference to the oxen, the strongest of all farm animals; and Mambazo being the Zulu word for chopping axe, a symbol of the group's ability to "chop down" any singing rival who might challenge them. Their collective voices were so tight and their harmonies so polished that by the end of the 1960s they were banned from competitions, although they were welcome to participate as entertainers.
The group borrows heavily from a traditional music called isicathamiya (is-cot-a-ME-Ya), which developed in the mines of South Africa, where black workers were taken by rail to work far away from their homes and their families.
During the 1970s and early 1980s, Ladysmith Black Mambazo established themselves as the most successful singing group in South Africa. In addition to their work with Paul Simon, Ladysmith Black Mambazo has recorded with numerous artists from around the world, including Stevie Wonder, Dolly Parton, Sarah McLachlan, Josh Groban, Emmylou Harris, Melissa Etheridge, and many others.
LEARN MORE: https://www.mambazo.com/