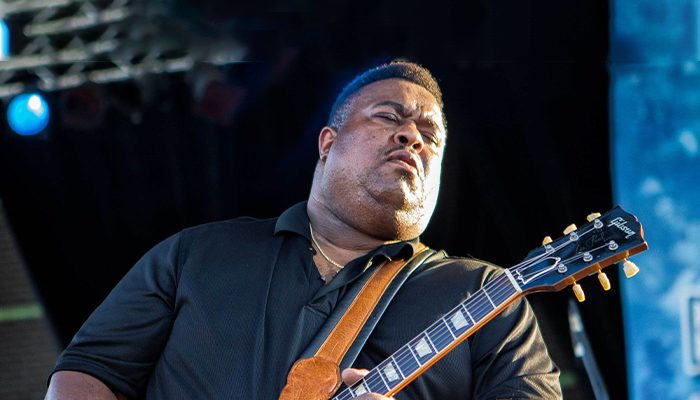 "powerful baritone voice and impressive guitar work… a force to be reckoned with." – Blues Rock Review
Larry McCray's heart and soul are in the blues. Of that, there's no question. Three-plus decades of scalding-hot and tasteful blues from the singer, guitarist, bandleader, songwriter and heir apparent to a lineage that includes heroes like B.B. King, Freddie King, and Albert King, all of whom he's had the chance to meet and play with. McCray's albums and live performances blend reverence for that tradition with his own soulful spin on the form.
McCray was born in 1960 in Magnolia, Ark., about 12 miles from the Louisiana line. He spent his early years on a farm as the second youngest of nine siblings. After trying his hand at saxophone in school, his older (and only) sister, Clara, introduced Larry to the guitar and the transformative music of the three Kings of the blues (B.B., Freddie and Albert).
Larry's debut album, Ambition—aptly named as it fused elements of blues, rock, and soul to create a contemporary blues sound—was recorded in a friend's Detroit basement studio and released in 1990 to critical acclaim.
Throughout the 1990s, Larry continued to help define blues rock by collaborating with artists such as labelmate and fellow guitarist, Albert Collins and releasing the much more slickly produced Delta Hurricane in 1993 (produced by British blues maven Mike Vernon), Meet Me at the Lake in 1996 and Born to Play the Blues in 1998.
Over the past three decades of nonstop touring and recording, Larry has played and shared the stage with such blues greats as BB King, Buddy Guy, Albert King, John Mayall, Johnny Winter, Robert Cray, Keb Mo, Jimmie Vaughan, Kenny Wayne Shepherd and Joe Bonamassa, as well as rock legends the Allman Brothers, Phil Lesh, Jonny Lang, Joe Walsh, Levon Helm, Chris Robinson, Dickey Betts, and countless others.
LEARN MORE: http://larrymccraylive.com/