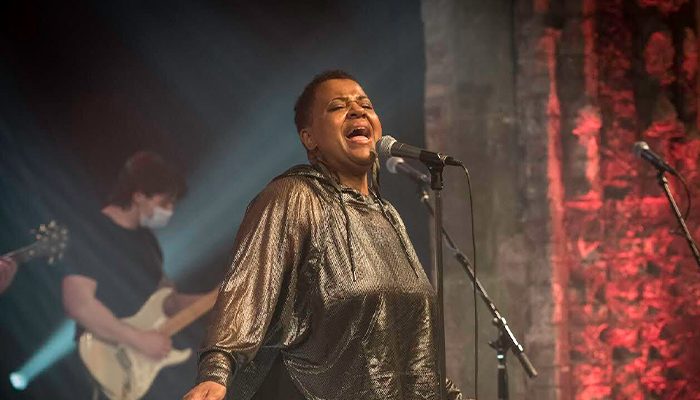 Kathleen Johnson of Musicians4Musicians, an original member of BKS, co-producer of Greats Gone 2 Soon live music series and a long-time featured vocalist in the historic "Soul Tight Committee" band presents REUNION. This live music production features the music of Frankie Beverly & Maze, Chaka Khan, The O'Jays, Anita Baker, and more. The evening will include a special encore performance of "The Spirit of Whitney!"
This evening of old-school R&B flavor will put you and your family from out of town in the mood to celebrate and get in the spirit of the holiday season. The top hits of these great artists will be presented. We will move and groove in and out of these old R&B hits to bring back old memories and create new ones.
"The Spirit of Whitney" was recently presented to a sold-out standing-room-only crowd at the Dakota. So many have asked for an "encore… encore" performance of this theme show, so we are going to "play the other side" and keep the energy high in the room with this "encore" teaser! Everybody just loves Whitney Houston!
One of the most vibrant voices in the area, Kathleen Johnson's bands Best Kept Secret and Greats Gone 2 Soon have packed clubs throughout Minnesota. She has worked with Billy McLaughlin, Keri Noble, Lorie Line, Malina Moye, Alexander O'Neal, and Prince, among others.
Guest Vocalists:
Lamont Keten of Mfellaz', Greats Gone 2 Soon, The Soul Tight Committee, a "Mid America talent" featured vocalist.
Len Jones of MFellaz', The Sounds of Blackness, and Greats Gone 2 Soon.
Cornisha Garmon has worked with Darnell Davis, Angie Stone, Mariah Carey, and Terri Carroll, and lead vocalist with Sounds of Blackness.
Samantha Moon brings the culture of her native Dominica to her socially conscious neo-soul.